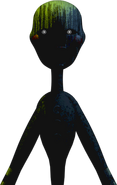 Phantom Puppet is one of the secondary antagonists in the game Five Nights at Freddy's 3 and is one of the six phantom animatronics in the game. It is a hallucination of a burned and damaged Puppet.
Appearance
Phantom Puppet appears much like its Five Nights at Freddy's 2 incarnation, though its body is charred and its eyes have small white irises, much like the other phantoms.
Locations
Phantom Puppet appears very briefly in CAM 08 and then appears in The Office depending on whether or not the player changes the Monitor's view before lowering it.
Behavior 
Phantom Puppet acts similarly to Phantom Mangle, Phantom BB and Phantom Chica, it only appears on one camera view randomly. If the player views Phantom Puppet in CAM 08, they are advised to change the Monitor's view. If this warning is not exercised, Phantom Puppet will teleport to the Office and closely stare directly into the player's face, causing a ventilation error and blocking the use of both the Maintenance Panel and Monitor. After it leaves, Phantom Puppet causes an audio error, much like Phantom Mangle.
Community content is available under
CC-BY-SA
unless otherwise noted.